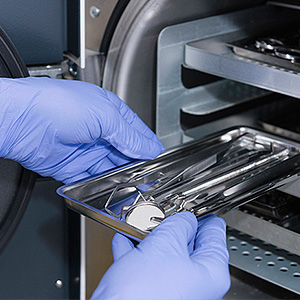 During this year's National Public Health Week in April, health issues like vaping and the opioid crisis are taking a back seat to what is front and center on everyone's mind: the novel coronavirus (COVID-19). This highly contagious viral infection is upending business as usual for most of the world in a way unlike anything we've experienced. Nothing is "normal" right now, including dental care.
As with other aspects of daily life, you can expect disruptions in dental care because of COVID-19, especially involving routine visits. But with that said, we're working hard to ensure your teeth and gums aren't overlooked during this global crisis. We are here for you, so please call us for any questions you may have, and especially if you are experiencing dental pain.
If you do need to visit the dentist for treatment, you might be concerned about potentially exposing yourself or others to COVID-19. Like every business that interacts with the public and especially all healthcare providers, dental offices are implementing extra precautions during this time to protect both patients and staff against infection.
This isn't something new: The dental profession as a whole has strict protocols for preventing infection that have been in place for several years. Infection control is a top priority for dentists at all times, not just during outbreaks like COVID-19. Here are some of the things we do—and are expanding because of the novel coronavirus—to keep you safe during dental appointments.
Barrier protection. Dental providers routinely use disposable items like gloves, face masks or eyewear to prevent disease spread during procedures that involve close contact with patients. For extra precautions with COVID-19, we're adding more of this type of barrier protection.
Sterilization and waste disposal. Instruments and equipment that we use repeatedly are thoroughly sterilized to remove all microorganisms, including coronavirus, from their surfaces. For disposable items used during treatment, we keep these separate from common waste and dispose of them according to strict protocols for handling bio-medical waste.
Disinfection. Even though the main pathway for spreading COVID-19 is through respiratory droplets in the air, we're continually disinfecting office and treatment surfaces that the virus might potentially contaminate. In doing so, we're using substances recommended by the U.S. Centers for Disease Control (CDC). By the way, you can find a list of such products at //www.americanchemistry.com/Novel-Coronavirus-Fighting-Products-List.pdf.
These are uncertain times for all of us. But while we're cooperating with social distancing and other measures to slow the spread of COVID-19, we're still here partnering with you to keep your family's teeth and gums healthy.
If you would like more information about special dental precautions during this time, don't hesitate to contact us. To learn more, read the Dear Doctor magazine article "Infection Control in the Dental Office."