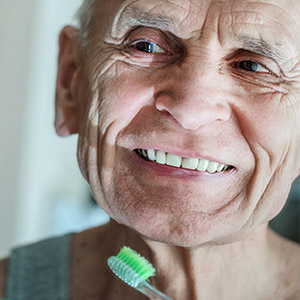 Know how to get the better of an age-guesser at the carnival? Smile! A recent study found that people tend to underestimate a person's age if they're smiling.
If true, smiling—naturally associated with youthfulness—might help you look younger than you are. Unfortunately, many older people smile less, self-conscious about the effects of aging on their teeth and gums. Their smile doesn't have the same zing as when they were younger.
If that's how you feel about your smile, a cosmetic dentist can help. Here are 3 common age-related problems a skilled dentist can help you improve.
Discoloration. After decades of eating, drinking and possibly smoking, teeth enamel can yellow and dull. But there are ways to brighten discolored teeth. One simple measure is to undergo teeth whitening with a bleaching solution. On a more permanent note, bonding tooth-colored materials, porcelain veneers or life-like dental crowns to teeth can mask stains and other imperfections.
Wearing. Speaking of all those meals, you can expect some teeth wearing later in life that makes them look shorter, and their shape and edges sharper rather than softer and rounded like a youthful smile. Dentists can improve the appearance of worn teeth by reshaping and contouring them to soften harsh edges. A procedure called crown lengthening can reposition the gums to display more of the teeth. Veneers or crowns can also transform the appearance of severely worn teeth.
Receding gums. There's also a contrasting gum problem. What some call "getting long in the tooth," The teeth look longer because the gums have receded from their normal coverage. This is often caused by gum disease, which older people encounter more than other age groups. After treating the infection, the gums may need help regaining their former position by grafting donor tissue to the area to encourage regrowth.
The effects of aging on teeth and gums are quite common, but you don't have to live with them. With a few appropriate techniques and procedures, your dentist can bring back the smile you once had—or one even better.
If you would like more information on maintaining a youthful smile, please contact us or schedule an appointment for a consultation. You can also learn more about this topic by reading the Dear Doctor magazine article "How Your Dentist Can Help You Look Younger."