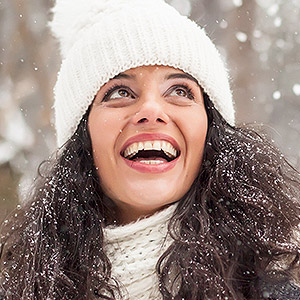 Here in the Western Hemisphere, sunlight hours steadily shrink day by day as we approach December 21st. This shortest day of the year marks the winter solstice and the official start of its namesake season. Love it or hate it, winter can have an impact on your health—including your teeth and gums.
Fortunately, winter doesn't sneak up on you—you can see it coming as the days wane. And, knowing what's up ahead gives you time to get yourself—and your mouth—ready. Here, then, are 3 things to prepare for during the winter months to protect your oral health.
Holiday eating. Winter starts off nicely enough with a bevy of festivities. But that could also mean you're eating more carbohydrates—particularly refined sugar—that feed the bacteria responsible for tooth decay and gum disease. To lessen your chances of dental disease, exercise moderation while eating sweets and other holiday goodies. And, don't neglect your daily brushing and flossing routine.
Winter weather. Winter's chill could trigger some unpleasant oral experiences. If you suffer from tooth sensitivity, for instance, colder temperatures can worsen your symptoms. Harsh and windy conditions also make you more susceptible to chapped lips. For the former, be sure you're using a toothpaste formulated for sensitive teeth. For the latter, apply lip salve to your lips that offers sun protection (SPF+) while you're outside.
Cold sores. You may be more apt to get sick during winter. That's because shorter days and more of your skin covered against the cold means you may absorb less Vitamin D from sunlight, leading to a weakened immune system. In addition to infections like colds and flu, this might also make you more susceptible to cold sores forming around your lips and mouth. If you feel a sore coming on, be sure to keep the area clean and apply an appropriate topical antibiotic cream to curtail any infection.
Winter also signals the beginning of a new year—the perfect time to get back on track with your dental care. If you haven't done so already, schedule a visit with your dentist for a cleaning and a checkup. By following these guidelines, you're sure to sail through the frigid winter months toward a brighter spring.
If you would like more information about dental care throughout the year, please contact us or schedule a consultation. To learn more, read the Dear Doctor magazine article "The Bitter Truth About Sugar."