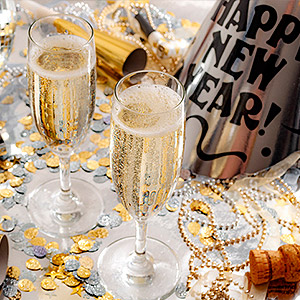 Throughout much of the world, January 1st signifies the first day of a brand new year. It's also commemorated by many as National Hangover Day—aptly so, as scores of New Year's Eve celebrants spend the day nursing their headaches and upset stomachs. It may also be an appropriate time to assess the health impact of alcohol—especially on your teeth and gums.
First, the bad news is that immoderate alcohol consumption increases your risk for tooth decay, gum disease and oral cancer. One of the reasons why has to do with sugar found in varying amounts in alcoholic beverages, often included during brewing or distilling to feed the yeast that produce the alcohol. Sugar is a primary food for oral bacteria, which can infect the gums and produce enamel-eroding acid, a prelude to both gum disease and tooth decay.
Along the same lines, alcoholic beverages are often paired with mixers, many of which like sodas and energy drinks contain sugar and high levels of acid. A mixed drink could thus contribute to an even more hostile environment for teeth and gums.
The frequency of your alcohol consumption may also contribute to enamel erosion. Ordinarily, saliva can neutralize oral acid in about thirty minutes to an hour. But saliva can't keep up if you're drinking one round after another, leading to sustained periods of acid contact with the teeth.
Alcohol—or specifically, too much—may also contribute to oral problems. Being under the influence increases your risk for tripping, falling and, shall we say, engaging in fisticuffs, any of which could result in traumatized teeth and gums. And, heavy drinking over a lifetime could increase your risk for oral cancer.
You could avoid these and other outcomes by abstaining from alcohol altogether. But if you do like the occasional wine, beer or spirit, here are a few tips to lower the risk of harm to your mouth, teeth or gums.
Limit your daily consumption. A rule of thumb, according to the Mayo Clinic, is to have no more than two drinks a day if you're a man, one if you're a woman.
Pause between drinks. Rather than downing one drink after another, wait at least an hour before your next round to allow saliva to neutralize any accumulated mouth acid.
Go easy on mixers. While it's fine to indulge in the occasional Old Fashioned or Margarita, choose unmixed beverages like beer, wine or straight spirits more often.
Brush and floss afterward. After a night on the town, don't turn in until you've cleaned your teeth and gums of any residual sugar or acid.
If you would like more information about how alcohol could affect your oral health, please contact us or schedule a consultation. To learn more, read the Dear Doctor magazine article "Nutrition—It's Role in General and Oral Health."